Improve Your Air Quality With Duct Cleaning in Virginia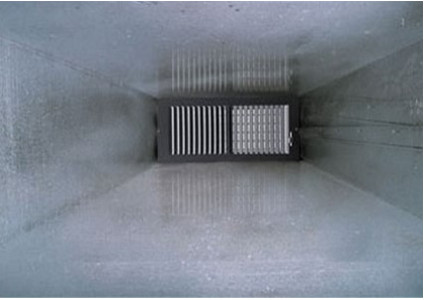 The air duct system in your home helps to keep you comfortable by circulating air throughout your home. That system was made to increase the quality of your life. However, with the high level of pollutants that can be present in your home, your air ducts might, in fact, be DECREASING the quality of your life by circulating polluted air throughout your home. Call Bay Restoration and Air Duct Services and ask our Virginia Restoration Contractors what we can do for your home's air quality.
Pollutants In My Air?
Studies show that, in Virginia, the air quality in 19 out of 20 homes was worse than the air outside with regard to pollutants. This problem is due to pollutants such as dust mites and mold that are present in your house -- and, of course, in your air ducts. As your air ducts circulate air throughout your home, they spread those pollutants to your and your family.
This scenario can create health problems for you and your family. This problem becomes exacerbated if you live with small children or elderly people, as they are more susceptible to sickness caused by polluted air. But with millions of Americans' suffering from allergies of many different kinds, one doesn't have to be very young or old to be affected by indoor pollutants.
Clean Air Ducts = Better Air Quality
Many of the pollutants present in homes develop and live in the air duct system. Since this system is designed to circulate the air throughout your home, this predicament is problematic indeed. To avoid these problems, reach out to the experts at Bay Restoration.
A Bay Restoration & Air Duct Services expert will thoroughly clean your ducts to rid them of these pollutants. This process will increase the quality of your air and life by performing the following functions:
The presence of pollutants in your air can be frustrating. Between allergies and serious illness, pollutants can create unnecessary stress on you and your family. Should these health problems become serious enough, they could lead to expensive doctor and hospital visits.
Don't let pollutants affect your quality of life or your finances. For an affordable, quick solution and prevention to these problems, call the experts at Bay Restoration & Air Duct Services, and you can breathe a sigh of relief for clean air!
Recent Air Duct Cleaning Articles
4 Benefits of Air Duct Cleaning
In Kilmarnock, Virginia and the surrounding Northern Neck area, dirty air enters in from the outside of your home and is instantly distributed into every area. The air is filled with various types of dirt, pollutants, allergens, contaminants and small particles that are unhealthy for you and your family's health. The solution is a regular
Benefits of Regular Hockley Duct Vent Cleaning
Making your indoor air safe and clean as much as possible through filtration and regular Hockley duct vent cleaning. Regular air duct maintenance gets rid of common pollutants like dust and other contaminants in your home cooling and heating systems. In order to maintain the quality and cleanliness of your indoor home environment you must
If you are looking for Duct Cleaning in Virginia, please call us today at 804-435-1065 or 800-438-2436 or complete our online request form.