Professional Fire Damage Restoration in Virginia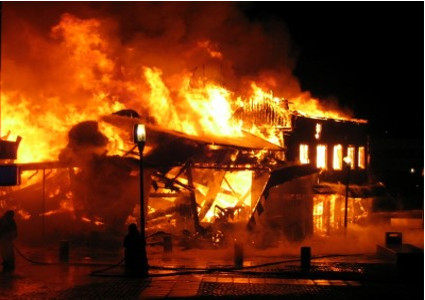 A fire can be tragic for a home, but unless your home burns completely to the ground, a fire does not mark the end of your home's life -- not when you have access to the experts at Bay Restoration & Air Duct Service. We make it our mission to provide the most immediate service possible, and our Virginia Restoration Contractor does so by being available 24 hours a day, 365 days a year.
We Restore Structural Damage
The most serious damage that a fire does to your home is that it weakens your home's structure. A fire can wear away the beams and supports that keep your house standing. To prevent further damage, you need to contact a Bay Restoration expert as SOON as the fire is out. A fire-damage expert will be on the scene as quickly as they are able to to assess what steps need to be taken to restore your house.
We will restore any and all components of your home that could have been damaged because of fire. We will have your walls re-painted. We will repair and even replace your damaged hardwood flooring, carpet, and tiling. We will not only restore your home to the safest condition possible; we will also restore it to the most beautiful condition possible.
Smoke Deodorization
The look of your home is not the only area that needs to be addressed when restoring your home to like-new condition. The SMELL is important, too. After a fire, the lingering smell of smoke can render your home life miserable until that smell is removed.
We at Bay Restoration are experts at extracting that smell from every area of your home -- from the attic all the way down to the basement. We will even address your air ducts so that smoky air does not continue to circulate throughout your home.
Areas that we specialize in deodorizing:
The Bottom Line
A fire can be devastating, but the process of restoring your home after one doesn't have to be. Just call an IICRC-certified expert at Bay Restoration & Air Duct Services, and you'll quickly be in the process of having your home returned to like-new condition.
Recent Fire Damage Articles
Preventing Fire Damage in the Living Room
Many of the common causes for fire damage in the living room can be easily prevented, given proper attention. The following safety rules will help assuring a safe environment in your living room, minimizing fire hazards to a minimum.
The Causes of Fire Damage
While some causes of fire are general and can occur anywhere, other causes are more specific for certain rooms. General Causes of Fire. Electrical - Don't underestimate the fire risk from electricity just because there is no flame involved. The over warming of hot plugs and sockets and blown fuses may start a fire.
If you are looking for Fire Damage Restoration in Virginia, please call us today at 804-435-1065 or 800-438-2436 or complete our online request form.