Your Water Damage Repair Company in Virginia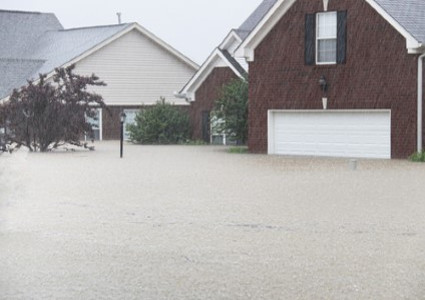 Nothing has the potential to cause serious issues quite like water damage does. Water can cause rot to occur on wooden supports, a problem which can lead to structural damage. It can also cause mold to develop. No matter the size -- large or small -- water damage should be assessed immediately.
Also no matter the size, the experts at Bay Restoration & Air Duct Services can restore the water damaged area to a like-new state. Whether your home is suffering from a burst water pipe in one room or a flood throughout the entire structure, the Virginia Restoration Contractors at Bay Restoration will reverse the damage water does to your house on any scale.
Our first step in undoing water damage is to remove it from your home. This step is important in preventing any further damage from occurring. No matter where the water is -- in the walls, floors, or ceiling -- a Bay Restoration expert will have the experience and tools necessary to extract all excess water from your home, allowing for the next phase of the water damage restoration process to begin.
Water Damage Repair
Water can damage anything in your house -- from the ceiling to the floor and everything in between. If water damage has left your walls or carpet in a state of discoloration, the experts at Bay Restoration will return them to a state of beauty.
But aesthetics are not the only issue you'll face following water damage. The integrity of your home's structure becomes compromised when water soaks into it. Rotting can occur, and this issue can lead to serious structural damage. To prevent potentially thousands of dollars' worth of damage from occurring, the experts at Bay Restoration also address your home's structural state following water damage. Thus, you can rest assured that your home will not only look great but also remain sturdy!
Mold Removal
Finally, a Bay Restoration expert will perform the last process of restoring your home: mold removal. As unsafe as a house with structural issues can be, a house contaminated with mold can be just as unsafe because of the many health problems mold can cause.
We at Bay Restoration will ensure that your home doesn't suffer any mold problems because of water damage. Our dehumidifying and drying processes ensure that mold cannot continue to develop since it will lack moisture. Once we have removed the problems that can cause mold to develop, we locate any traces of mold and remove it quickly and thoroughly.
Water damage can be a frightening ordeal, but removing it doesn't have to be. With the IICRC-certified experts at Bay Restoration, you will get the fastest and most thorough restoration following any water-based damages -- big or small.
Recent Water Damage Articles
About the Water Damage Restoration Process
There's no way to predict when water damage might occur in your home or what might cause it. Whether there's a flood in your area, an appliance malfunction in your home, a pipe leak, or anything else causes water damage in your home, you need to have restoration services performed promptly and professionally. At Bay
What To Expect From Water Damage Repairs In Virginia
Water damages in your Virginia home can occur for several reasons. You may have plumbing that leaks and floods your home, plumbing that backs up and floods your home, or floods inside your home due to flash-floods or storms. No matter what type of flooding or water damages you have, you will need proper
If you are looking for Water Damage Repair in Virginia, please call us today at 804-435-1065 or 800-438-2436 or complete our online request form.